Occupational Safety and Health Management Courses
(REV)Safety Review
With the recently approved Factories and Industrial Undertakings (Safety management) Regulation, contractors or proprietors in relation to construction sites, catering establishments, shipyards, factories and other designated industrial undertakings (i.e. those involved in the generation and transmission of electricity, towngas or liquefied petroleum gas and in the handling of containers) employing 50 to 99 workers are required to develop, implement and maintain a safety management system. They also need to appoint a safety review officer, who is competent to conduct regular safety reviews of their safety management system. The course is suitable for those who want to become a competent safety review officer.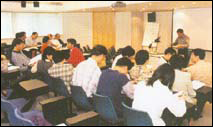 Highlights:

1. Factories and Industrial Undertakings (Safety Management) Regulation
2. Modern safety management principles and models
3. Develop, implement and maintain a safety management system
4. Key process elements of safety management system:
a. Safety policy
b. Safety organization
c. Safety training
d. In-house safety rules
5. Appointment of safety review officer
6. Safety review techniques
7. Development of safety review plan and report
8. Development of action plan
Duration (Hour):
33 hours plus end-of-course examination
Instructor:
Professional or OSHC consultant
Language:
Cantonese supplemented with English notes
Prerequisites:
1) Completed Form 5 or above or equivalent (applicants should provide copies of certification); and
2) Holder of Certificate in Safety Supervisor, Safety Officer or Safety Auditing course, and
3) Related working experience
Remark:
● Award of Certificate: 100% attendance and pass the end-of-course examination.
● Students who do not have sufficient attendance are not allowed to attend the examination.
● Students who are absent from the class, late or leave earlier for more than 30 minutes in class will be regarded as absent for that session.


Reserve online