Occupational Safety and Health Management Courses
(WCIS)Workshop on Communication & Interviewing Skills in OSH
To implement a safety management system successfully in an organisatoin, the personnel responsible for carrying out the work must have good communication and interviewing skills, such that information can be effectively issued to the front line management within the organisation. They would therefore disseminate positive message of occupational safety and health, and to make a positive impact on their staff. Effective communication and interviewing skills enables employees to accept and continue implementing occupational safety and health measures. Good communication and interviewing skills will also enable staff to work more effectively, such as the operation of the safety committee, safety inspections and accident investigations, the implementation of safety rules and safety promotion.
This course is suitable for managers, safety officers and personnel in the implementation of occupational safety and health personnel attend. Through interaction within the workshop, so that learners master the applied workplace communication and interviewing skills, to enhance their interpersonal communication performance in their future.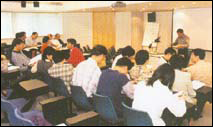 Highlights:

1. Definition of "communication" and "interviewing skills"
2. The elements of communication process
3. Benefit of good "communication" and "interviewing" skills
4. Key elements of effective "communication" and "interviews" methods
5. Communication and interviewing skills in occupational safety management
6. Work examples
7. Case studies
Duration (Hour):
7 hours
Instructor:
Professional or OSHC consultant
Language:
Cantonese supplemented with Chinese notes
Prerequisites:
General education with relevant working experience
Remark:
● Award of Certificate: 100% attendance and pass the end-of-course examination.
● Students who do not have sufficient attendance are not allowed to attend the examination.
● Students who are absent from the class, late or leave earlier for more than 30 minutes in class will be regarded as absent for that session.


Reserve online
Course Code
Original Fee
(HKD$)
GCG Member Fee/
OSH Ambassador Fee
(HKD$)
SME Fee
(HKD$)
Venue
Start Date

Class Date
Time
Apply individual
WCIS/23/B
490
440
245
North Point
07/03/2023
07/03/2023
(Exam Date:07/03/2023)
09:30-12:30,13:30-17:30