Certificate Of Competence Courses
(CST)Occupational Safety and Health Trainer Workshop for Cleaning and Sanitary Work
Employees in cleaning and sanitary work not only maintain a clean and comfortable environment for us, but also create a hygienic
premise that reduces the chance of diseases transmission. Cleaning and sanitary works involve potential risks, such as falling from
height, use of chemicals, slip and trip etc. Therefore, employees must pay attention to occupational safety and health in their
workplaces and adopt appropriate measures to cope with different hazards, in order to prevent injuries or health problemsfrom
work.

This workshop includes practical training, case study and discussion. It aims to provide participant with appropriate training to
become occupational safety & health trainer, and assist employers in providing OSH training to their cleaning staffs.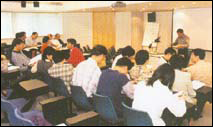 Highlights:

• Concepts of Occupational Safety and Health
• Introduction of relevant safety and health
legislation
• Types of cleaning and sanitary work
• Recognition of potential hazards in cleaning and
sanitary work (e.g., hazards arising from working
at height, use of mechanical equipment, electrical
equipment, chemicals and hand tools)
• Control measures for work-related hazards
• Biological hazards and safety measures
• Selection and use of personal protective equipment
• First aid principles and emergency preparedness
• Training methods and skills
Duration (Hour):
6 hours
Instructor:
Professional or OSHC Consultant
Language:
Cantonese supplemented with Chinese notes
Prerequisites:
Ability to read and write in Chinese
Remark:
● Award of Certificate: 100% attendance and pass the end-of-course examination.
● Students who do not have sufficient attendance are not allowed to attend the examination.
● Students who are absent from the class, late or leave earlier for more than 30 minutes in a class will be regarded as absent for that session.


Reserve online
(If online enrollment quota is full or you would like to arrange in-house training course,

please contact 2311 3322/3106 2000.)
Course Code
Original Fee
(HKD$)
GCG Member Fee/
OSH Ambassador Fee
(HKD$)
SME Fee
(HKD$)
Venue
Start Date

Class Date
Time
Apply individual
CST/24/A
620
560
310
Tsing Yi
01/03/2024
01/03/2024
(Exam Date:01/03/2024)
09:30-12:30 & 14:00-17:00