Occupational Safety and Health Management Courses
(MNW)Managing Noise at Work
Noise at work has been generally neglected by the public or even those engaged in noisy occupations. However, people working in noisy working environment, if not properly protected, are likely to contract occupational deafness as a result of prolonged exposure to noise. Having suffered from hearing impairment, such persons would not only be affected in their daily life, but they might also be exposed to risk at work. In turn, this would incur costs (such as medical and insurance) to the production or business of the organisation. To a lesser extent, noise also causes nuisance to workers at work as well as the public, thereby reducing productivity and harming the image of the enterprise concerned. Hence, employers should pay attention to noise control and take measures to protect their employees from being affected by noise at the workplace.
The Occupational Safety and Health Council (OSHC) and the Occupational Deafness Compensation Board (ODCB) jointly organize this course, with the aim of making employers and management staff better understand their legal responsibilities with regard to noise at work, the principles of hearing conservation, noise control measures and occupational deafness, etc. This course is suitable to all employers and management staff, particularly those whose operation involves noisy processes.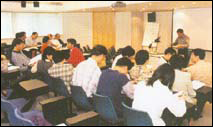 Highlights:

1. Introduction of occupational safety and health legislation related to noise hazards
2. Impacts of noise on human body and business operations
3. Basic acoustics and occupational deafness
4. Noise control measures (with case studies)
5. Hearing protection methods
6. Principles of hearing conservation
7. Occupational Deafness Compensation Scheme
Duration (Hour):
3.5 hours
Instructor:
Professional or OSHC Consultant
Language:
Cantonese supplemented with Chinese notes
Prerequisites:
Ability to read and write in Chinese
Remark:
● Award of Certificate: 100% attendance and pass in end-of-course examination.
● Students who do not have sufficient attendance is not allowed to attend the examination.
● Students who are absent from the class, late or leave earlier for more than 30 minutes in class will be regarded as absent for that session.


Reserve online
(If online enrollment quota is full or you would like to arrange in-house training course,

please contact 2311 3322/3106 2000.)