Certificate Of Competence Courses
(EIR)Safety in Electrical Installation and Repairing Works
All electrical installation and maintenance works should be carried out by registered electrical contractors according to the Electricity Ordinance. However, a number of serious accidents occurred during the new installations, maintenance and alteration. Most of the accidents are caused by the inadequate safe system of work or human factor such as poor safety awareness. This training course is designed for those personnel who need to carry out the electrical installation and maintenance works or work near to or associated with electrical installation. This course aims at enhancing their safety awareness and to enable them to acquire the relevant control measures to prevent accidents.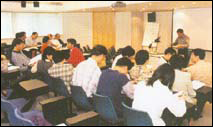 Highlights:

1. Relevant safety regulations, code of practices and standards
2. Electricity principles
3. Hazards on electrical installation and maintenance works
4. Risk assessment and control measures
5. Safety in electrical installations
6. Safety in temporary electricity installations
7. Safety procedures on installation, testing, repairing and maintenance of electrical installations
8. Safety inspection
9. Permit to work and log-out tag-out system
10. Emergency preparedness
11.Case studies
Duration (Hour):
6 hours
Instructor:
Professional or OSHC Consultants
Language:
Cantonese supplemented with Chinese notes
Prerequisites:
Registered electrical workers or participants who have sufficient engineering background and relevant working experience or holders of "Electrical Safety" course
Remark:
● Certificate Award Criteria : 100% class attendance and a pass in end-of-course examination.
● Students who do not have sufficient attendance are not allowed to attend the examination.
● Students who are absent from the class, late or leave earlier for more than 30 minutes in class will be regarded as absent for that session.


Reserve online
(If online enrollment quota is full or you would like to arrange in-house training course,

please contact 2311 3322/3106 2000.)
Course Code
Original Fee
(HKD$)
GCG Member Fee/
OSH Ambassador Fee
(HKD$)
SME Fee
(HKD$)
Venue
Start Date

Class Date
Time
Apply individual
EIR/23/J
490
440
245
Tsing Yi
17/12/2023
17/12/2023 星期日(Sun)
(Exam Date:17/12/2023)
09:30-12:30 & 14:00-17:00
EIR/24/A
490
440
245
Tsing Yi
16/01/2024
16/01/2024
(Exam Date:16/01/2024)
09:30-12:30 & 14:00-17:00
EIR/24/B
490
440
245
Tsing Yi
17/03/2024
17/03/2024星期日(Sun)
(Exam Date:17/03/2024)
09:30-12:30 & 14:00-17:00