General Occupational Safety and Health Courses
(MAS)General Safety and Health for Massage and Acupressure Practitioners
With the increasing demand of the massage and acupressure services, more and more people are working as massage and acupressure practitioners. It comes to concern on the safety and health for the massage and acupressure practitioners. The major job duties of them are providing massage and acupressure services to the customers, in order to let the customers to release muscular stress and fatigue. Massage and acupressure practitioners often use their limbs during their works and they would have direct contract with the customer because of their job natures. Meanwhile, there are different kind of OSH hazards in their jobs.
This course is designed for massage and acupressure practitioners, for them to learn the common occupational hazards, personal hygiene, effective prevention measures including use the personal protective equipment correctly etc. Therefore, this course can ensure the safety and health of massage and acupressure practitioner, also it would not have an adverse effect towards the customers and the society.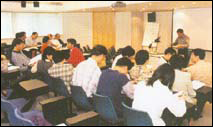 Highlights:

1. Introduction of occupational safety and health legislation
2. Prevention of musculoskeletal disease
3. Chemical safety
4. Infection Control
5. Personal hygiene
6. Electrical and fire safety
7. Stretching exercise demonstration
Duration (Hour):
3.5 hours
Instructor:
Professional or OSHC consultant
Language:
Cantonese supplemented with Chinese notes
Prerequisites:
With appropriate education level and related working experience
Remark:
◎Award of Certificate: 100% attendance and pass the end-of-course examination.
◎Students who do not have sufficient attendance are not allowed to attend the examination
◎Students who are absent from the class, late or leave earlier for more than 30 minutes in a class will be regarded as absent for that session.
◎Students must wear safety shoes, otherwise, they may be rejected.


Reserve online
(If online enrollment quota is full or you would like to arrange in-house training course,

please contact 2311 3322/3106 2000.)