Boiler and Receiver Safety Courses
(SR)Steam Receivers Operator
Steam receivers are extensively used in industries. These equipment are potentially dangerous; operators do not posses the knowledge on the equipment operation and maintenance can cause serious accidents. This course is designed to provides staff with adequate knowledge on safe operation and maintenance of steam receivers, for example, stream sterilization.

This course is recognized by the Labour Department. Upon successful completion of this course, participants are exempted from taking the certificate of competency examination for steam receivers conducted by the Labour Department.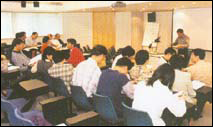 Highlights:

1. Knowledge of SI Units
2. Knowledge of drawings and charts
3. Thermodynamic and stream tables
4. Operation of stream receivers and steam sterilizers
5. Operation principles of high temperature yarn dyeing machine and high temperature cloth dyeing machine
6. Principles of electricity and fire prevention
Duration (Hour):
9 hours plus end-of-course examination
Instructor:
Professionals
Language:
Cantonese supplemented with Chinese notes
Prerequisites:
Ability to read and write in Chinese; Operating experience of steam receivers as an assistant
Remark:
● Award of Certificate: 100% attendance and pass in end-of-course examination.
● Students who do not have sufficient attendance is not allowed to attend the examination.
● Students who are absent from the class, late or leave earlier for more than 30 minutes in class will be regarded as absent for that session.


Reserve online
Course Code
Original Fee
(HKD$)
GCG Member Fee/
OSH Ambassador Fee
(HKD$)
SME Fee
(HKD$)
Venue
Start Date

Class Date
Time
Apply individual
SR/23/G
1080
970
760
North Point
09/06/2023
09/06,16/06,23/06,30/06/2023
(Exam Date:30/06/2023)
18:30-21:30
SR/23/H
1080
970
760
North Point
04/07/2023
04/07,11/07,18/07,25/07/2023
(Exam Date:25/07/2023)
18:30-21:30
SR/23/J
1080
970
760
North Point
02/08/2023
02/08,09/08,16/08,23/08/2023
(Exam Date:23/08/2023)
18:30-21:30
SR/23/K
1080
970
760
North Point
08/09/2023
08/09,15/09,22/09,29/09/2023
(Exam Date:29/09/2023)
18:30-21:30