Occupational Safety and Health Management Courses
(PM)Occupational Safety Management for Project Managers
Many sizable construction sites are implementing safety management system, and conduct the legally required safety audit or review. In 2001 the Construction Industry Review Committee in its report recommended designing for construction safety and integrated management. The report also mentioned about Works Bureau and Housing Authority should consider taking a lead to incorporate practicable features of the UK's Construction (Design and Management) Regulations into their projects. These features include requiring management staff and designers to be responsible for safety. This course is aimed at project managers, providing them with knowledge about current legal requirements on safety management and how to manage safety in projects.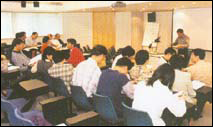 Highlights:

1. Legal overview
2. Safety management system requirements
3. Inter-relationship in project safety management
4. Occupational safety & health contract arrangements
5. Developing and maintaining a project safety management
6. Safety audit and review
Duration (Hour):
12 hours
Instructor:
Professional or OSHC consultant
Language:
Cantonese supplemented with English notes
Prerequisites:
General education with relevant working experience
Remark:
● Award of Certificate: 100% attendance and pass the examination.
● Students who do not have sufficient attendance are not allowed to attend the examination.
● Students who are absent from the class, late or leave earlier for more than 30 minutes in class will be regarded as absent for that session.



Reserve online
Course Code
Original Fee
(HKD$)
GCG Member Fee/
OSH Ambassador Fee
(HKD$)
SME Fee
(HKD$)
Venue
Start Date

Class Date
Time
Apply individual
PM/23/A
1290
1160
645
North Point
21/03/2023
21/03/2023,
28/03/2023
(Exam Date:28/03/2023)
09:30-12:30 &14:00-17:00