Occupational Safety and Health Management Courses
(HEW)Workshop on Human Error Safety Management
Accidents are very often caused by human errors. To prevent accident, enterprises should develop and implement a safety management system and cultivate a safety culture within their organizations. This workshop highlights the importance of human error, and discusses how a safety management system can effectively deal with human errors. In addition, the workshop will introduce approaches to cope with human errors, for example, taking into account human operation habits and tendency in workplace design and executing "pointing and calling" for self-inspection to ensure that operation procedures are accurate. This workshop will also discuss the characteristics of corporate safety culture that effectively reduces accidents caused by human errors.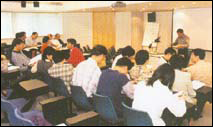 Highlights:

1. Concepts of Human error
2. General principles to cope with human error
3. Human error prevention in work design
4. "Pointing and calling" self-inspection and confirmation approach
5. How safety management system reduces human errors
6. Characteristics of safety culture that effectively prevents human error and how to foster these characteristics
7. Correctly handle accidents due to human errors
8. Case studies
Duration (Hour):
12 hours
Instructor:
Professional or OSHC's Consultant
Language:
Cantonese supplemented with English notes
Prerequisites:
With appropriate education level and related working experience
Remark:
● Award of Certificate: 100% attendance and pass in end-of-course examination.
● Students who do not have sufficient attendance is not allowed to attend the examination.
● Students who are absent from the class, late or leave earlier for more than 30 minutes in class will be regarded as absent for that session.



Reserve online
(If online enrollment quota is full or you would like to arrange in-house training course,

please contact 2311 3322/3106 2000.)
Course Code
Original Fee
(HKD$)
GCG Member Fee/
OSH Ambassador Fee
(HKD$)
SME Fee
(HKD$)
Venue
Start Date

Class Date
Time
Apply individual
HEW/23/D
1290
1160
645
North Point
05/12/2023
05/12/2023,12/12/2023
(Exam Date:12/12/2023)
09:30-12:30 & 14:00-17:00