Occupational Safety and Health Management Courses
(MCW)Management of Clinical Waste and Infection Control
Legislative control on the handling, collection, treatment and disposal of clinical waste will become effective by way of the Waste Disposal Ordinance and the Waste Disposal (Clinical Waste) (General) Regulation.

This course aims at giving the managers and supervisors of waste producers (hospitals, medical and dental clinics, nursing homes, laboratories and veterinary practices etc.) an introduction of the legislative requirements in safe handling of clinical wastes including segregation, packaging and labeling, storage, collection and transportation of the wastes. Possible hazards, risks and the control measures, as well as the emergency plan in handling clinical wastes will also be covered to enable the students to exercise special caution in the handling and management of clinical waste so as to minimize any danger to public health or risk of pollution to the environment.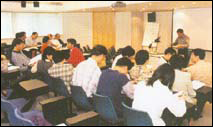 Highlights:

1.Introduction of relevant environmental and safety legislation
2.Segregation, packaging and labeling, storage, collection and transportation of the wastes clinical wastes
3.The duty of care of waste producers, licensed collector and disposal facility
4.Hazards and the control measures in handling clinical wastes
5.Infection Control
6.Handling of clinical wastes spillage and emergency plan
7.Safe use of personal protective equipment

Duration (Hour):
7 hours
Instructor:
Professional or OSHC consultant
Language:
Cantonese supplemented with Chinese notes
Prerequisites:
Ability to read and write in Chinese
Remark:
● Award of Certificate: 100% attendance and pass in end-of-course examination.
● Students who do not have sufficient attendance is not allowed to attend the examination.
● Students who are absent from the class, late or leave earlier for more than 30 minutes in class will be regarded as absent for that session.


Reserve online
Course Code
Original Fee
(HKD$)
GCG Member Fee/
OSH Ambassador Fee
(HKD$)
SME Fee
(HKD$)
Venue
Start Date

Class Date
Time
Apply individual
MCW/23/K
490
440
245
Tsing Yi
02/06/2023
02/06/2023
(Exam Date:02/06/2023)
09:30-13:00 & 14:00-17:30
MCW/23/L
490
440
245
Tsing Yi
27/06/2023
27/06/2023
(Exam Date:27/06/2023)
09:30-13:00 & 14:00-17:30
MCW/23/N
490
440
245
Tsing Yi
05/07/2023
05/07/2023
(Exam Date:05/07/2023)
09:30-13:00 & 14:00-17:30
MCW/23/T
490
440
245
Tsing Yi
19/07/2023
19/07/2023
(Exam Date:19/07/2023)
09:30-13:00 & 14:00-17:30
MCW/23/Q
490
440
245
Tsing Yi
03/08/2023
03/08/2023
(Exam Date:03/08/2023)
09:30-13:00 & 14:00-17:30
MCW/23/R
490
440
245
Tsing Yi
01/09/2023
01/09/2023
(Exam Date:01/09/2023)
09:30-13:00 & 14:00-17:30
MCW/23/S
490
440
245
Tsing Yi
26/09/2023
26/09/2023
(Exam Date:26/09/2023)
09:30-13:00 & 14:00-17:30