Occupational Safety and Health Management Courses
(DM)Workshop on Disability Management and Return to Work
The concept of disability management is currently growing fast among the commercial world and it has crucial implications for the commercial and disabled communities of Hong Kong. Disability management is a workplace centered strategy designed to maintain workplace attachment for a worker who has suffered from a disabling injury or illness. Its objective is to provide timely and free rehabilitation services to injured employees for better and speedier recovery and to facilitate their safe and early return to work.

With disability management, a scenario develops which is mutually beneficial to both the disabled and the employer. As a result of this, increasing numbers of businesses are convinced of the sound business benefits of integrating disability management into their core business practices and this in turn is helping more people with disabilities and their families maintain their independence and reduce the demands on the social security system. This course is designed for certified disability management professionals and return to work coordinators aiming to give them a broad view of disability management and return to work concept.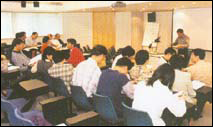 Highlights:

1. Definition of disability management and its related legislation
2. How to develop disability management program?
3. Process of occupational rehabilitation such as job analysis, physical capability assessment, work strengthening, return to work, follow up and support counseling
4. Roles of Certified Disability Management Professional and Certified Return to Work Coordinator
5. Case studies and analysis on occupational rehabilitation

Duration (Hour):
12 hours
Instructor:
Professional or OSHC consultant
Language:
Cantonese supplemented with English notes
Prerequisites:
General education with related working experience
Remark:
● Award of Certificate: 100% attendance and pass in end-of-course examination.
● Students who do not have sufficient attendance is not allowed to attend the examination.
● Students who are absent from the class, late or leave earlier for more than 30 minutes in class will be regarded as absent for that session.


Reserve online
(If online enrollment quota is full or you would like to arrange in-house training course,

please contact 2311 3322/3106 2000.)
Course Code
Original Fee
(HKD$)
GCG Member Fee/
OSH Ambassador Fee
(HKD$)
SME Fee
(HKD$)
Venue
Start Date

Class Date
Time
Apply individual
DM/23/E
1290
1160
645
Tsing Yi
18/11/2023
18/11/2023 & 25/11/2023
(Exam Date:25/11/2023)
09:30-12:30 & 14:00-17:00