Occupational Safety and Health Management Courses
(WSB)Work Safe Behaviour Workshop
Many research findings show that the major cause of workplace accident is employees?safe behaviour at work. Although an organisation may have established a safety management system, the implementation of it also requires employees having safe behaviour. This course aims to introduce the importance of safe behaviour and the know-how on the promotion of it. Organisations can as a result improve on the safety culture by shaping employees?work safe behaviour.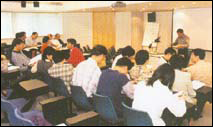 Highlights:

1. Basic concept of work safe behaviour
2. Work safe behaviour programme
3. Observation on safe work behaviour
4. Continual improvement of work safe behaviour
5. Practices of work safe behaviour programme
6. Improvement action plan
Duration (Hour):
12 hours
Instructor:
Professional or OSHC consultant
Language:
Cantonese supplemented with Chinese notes
Prerequisites:
General education with relevant working experience and has ability to read and write in Chinese
Remark:
● Award of Certificate: 100% attendance and pass the end-of-course examination.
● Students who do not have sufficient attendance are not allowed to attend the examination.
● Students who are absent from the class, late or leave earlier for more than 30 minutes in class will be regarded as absent for that session.



Reserve online
Course Code
Original Fee
(HKD$)
GCG Member Fee/
OSH Ambassador Fee
(HKD$)
SME Fee
(HKD$)
Venue
Start Date

Class Date
Time
Apply individual
WSB/23/A
1290
1160
645
North Point
15/02/2023
15/02, 17/02, 22/02, 24/02/2023
18:30-21:30