Occupational Safety and Health Management Courses
(OSHIT)Application of Information Technology in Occupational Safety
As the innovation in electronic technology has been developed rapidly, our world has entered an era of information technology. In order to cope with this new trend, safety and health professionals must equip themselves and utilize the resources and information in the electronic media. This course is designed for people who are interested in applying information technology in the area of occupational safety and health, utilizing resource kits as well as internet to acquire essential safety information.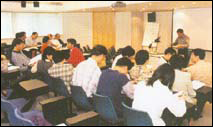 Highlights:

1. The role, characteristics and importance of information technology in OSH training
2. Use computer software to assist safety inspection, accident/incident reporting and injury surveillance
3. Use computer software to assist safety climate index survey and work safe behavior programme
4. How to utilize electronic media to search for safety information
5. Other examples of using information technology to assist OSH
6. Introduction of resource kits produced by OSHC
Duration (Hour):
3.5 hours
Instructor:
Professional or OSHC consultant
Language:
Cantonese supplemented with Chinese notes
Prerequisites:
Ability to read and write in Chinese
Remark:
● Award of Certificate: 100% attendance and pass in end-of-course examination.
● Students who do not have sufficient attendance is not allowed to attend the examination.
● Students who are absent from the class, late or leave earlier for more than 30 minutes in class will be regarded as absent for that session.


Reserve online
Course Code
Original Fee
(HKD$)
GCG Member Fee/
OSH Ambassador Fee
(HKD$)
SME Fee
(HKD$)
Venue
Start Date

Class Date
Time
Apply individual
OSHIT/23/E
160
145
80
Tsing Yi
22/08/2023
22/08/2023
(Exam Date:22/08/2023)
14:00-17:30