Occupational Safety and Health Management Courses
(AMGT)Asbestos Management
According to the Air Pollution Control Ordinance, if premises contains or may contain asbestos materials, the premises owner is required to appoint a registered asbestos consultant to assess and submit an abatement plan to the authority prior to the commencement of works. During the course of asbestos abatement work, the registered asbestos consultant has the duty of monitoring the implementation of asbestos management plan or the asbestos abatement works. This course is suitable for engineers, architects, surveyors, authorized persons and related professionals who wish to become registered asbestos consultants under the Air Pollution Control Ordinance. Any other persons with an interest in the subject are also welcome to enroll in this course.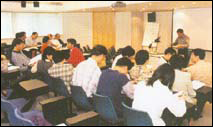 Highlights:

1. Related legislation of the environmental control of asbestos
2. Health effects related to asbestos exposure
3. Fiber aerodynamics and control
4. Analytical methods for asbestos identification and measurement
5. Asbestos investigation and health hazard assessment
6. Methods of asbestos abatement
7. Developing a work and maintenance plan
8. Hazards of asbestos abatement work sites
9. Proper use of personal protective equipment
10. Workshop on preparing asbestos investigation reports and asbestos management plans
Duration (Hour):
39 hours (including site visit, theory & practical exam sessions)
Instructor:
Professionals from Environmental Protection Department and Labour Department
Language:
Cantonese supplemented with English notes
Prerequisites:
1) Candidates with a degree in science or engineering or high diploma (applicants should provide copies of certification) and
2) 4 years of working experience(applicants should provide proof of experience)
Remark:
● Award of Certificate: 90% attendance and pass in end-of-course examination.
● Students who do not have sufficient attendance is not allowed to attend the examination.
● Students who are absent from the class, late or leave earlier for more than 30 minutes in class will be regarded as absent for that session.


Reserve online