Certificate Of Competence Courses
(DSEA(E))Certificate of Competence in Display Screen Equipment Assessment (English Course)
The Occupational Safety and Health (Display Screen Equipment) Regulation requires that the person responsible for a workplace shall take steps to reduce any risks in a Display Screen Equipment (DSE) workstation identified in a risk assessment to the lowest extent as is reasonably and assessing the risk to the safety and health of users of a workstation; deciding whether existing precautions are adequate; and recording the findings.
After completing the course, participants will be able to know the techniques for carrying out risk assessment in a workstation. They will also develop an understanding on the various health hazards and the corresponding control measures in connection with the use of DSE.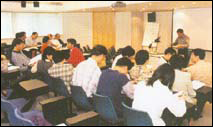 Highlights:

1. Occupational Safety and Health (Display Screen Equipment) Regulation
2. Health hazards arising from the use of DSE
3. Risk assessment in a DSE workstation
4. Common control measures
5. Case studies and practical exercises
Duration (Hour):
6 hours
Instructor:
Professional or OSHC consultant
Language:
English supplemented with English notes
Prerequisites:
1) Completed Form 5 or DSE or above or equivalent (applicants should provide copies of certification)
2) Ability to read and write English
Remark:
● Award of Certificate : 100% attendance and pass the end-of-course
examination and course assignment.
● Students who do not have sufficient attendance are not allowed to attend the examination.
● Students who are absent from the class, late or leave earlier for more than 30 minutes in class will be regarded as absent for that session.


Reserve online
(If online enrollment quota is full or you would like to arrange in-house training course,

please contact 2311 3322/3106 2000.)
Course Code
Original Fee
(HKD$)
GCG Member Fee/
OSH Ambassador Fee
(HKD$)
SME Fee
(HKD$)
Venue
Start Date

Class Date
Time
Apply individual
DSEA(E)/24/A
690
620
345
North Point
04/03/2024
04/03/2024,11/03/2024
Examination:
11/03/2024
(Exam Date:11/03/2024)
14:00-17:00