Certificate Of Competence Courses
(DG)Certificate of Competence in Safe Conveyance of Dangerous Goods
The Fire Services Department has proposed to make amendment to the Dangerous Goods Ordinance, Chapter 295, to require that basic safety training should be provided to employees, particularly the drivers of vehicles carrying significant quantities of dangerous goods. To support the proposed legislative amendment, the Occupational Safety and Health Council (OSHC) develop and organize this program aiming at provide basic safety training to people involved in the conveyance of dangerous goods to enhance their safety awareness and prevent work accidents.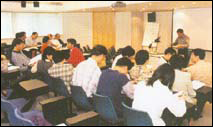 Highlights:

1. Overview of safety legislative provisions in conveyance of dangerous goods
2. Outline of classification, labelling requirements, packaging requirements and rules on 'limited quantity' of DG
3. Different types of DG vehicle licensing conditions and the respective standard requirement
4. Safety responsibilities of consignor, vehicle owner, operators and drivers
5. Inspection of DG against Transport Document and Consignor's Declaration
6. Common causes and preventive measures for DG vehicle accidents
7. Safe loading, stowage, securing and unloading of DG
8 Hazards and precautions in DG conveyance
9. DG vehicle safety requirements
10. Emergency procedures
11. Practice on the use of fire extinguishers
Duration (Hour):
12 hours
Instructor:
Professional or OSHC consultant
Language:
Cantonese supplemented with Chinese notes
Prerequisites:
Ability to read and write in Chinese and related working experience
Remark:
● Award of Certificate: 100% attendance and a pass in end-of-course examination
● No examination is allowed for students who do not have sufficient attendance.
● Students who are absent from the class, late or leave earlier for more than 30 minutes in class will be regarded as absent for that session.
● Safety shoes must be worn during practical sessions.


Reserve online
(If online enrollment quota is full or you would like to arrange in-house training course,

please contact 2311 3322/3106 2000.)
Course Code
Original Fee
(HKD$)
GCG Member Fee/
OSH Ambassador Fee
(HKD$)
SME Fee
(HKD$)
Venue
Start Date

Class Date
Time
Apply individual
DG/23/E
1040
940
520
Tsing Yi
18/12/2023
18/12/2023,19/12/2023
(Exam Date:19/12/2023)
09:30-12:30 & 14:00-17:00
DG/24/A
1040
940
520
Tsing Yi
18/03/2024
18/03/2024,19/03/2024
(Exam Date:19/03/2024)
09:30-12:30 & 14:00-17:00