Certificate Of Competence Courses
(CHAIN)Safe Use of Chainsaws
Chainsaws is widely used in pruning branches and cutting of trees in arboriculture industry. It is a dangerous tool. If the operator
being hurt by the high-speed rotating saw tooth, it may cause serious consequences.
In addition, operation of chainsaws have other hazards, such as being hit by wood, exposing to high noise level environments and
vibration of machine, and improper handling of flammable liquids may cause fires.
The course aims at providing basic training, understanding hazards of chainsaws and correct operation method to chainsaws
operators. It is suitable for personnel engaged in arboriculture, horticulture industry and other personnel such as police and
firefighters etc. who need to operate chainsaws.

Remarks:
This is a Recognised Continuing Education in Arboriculture Course for the Registered Chainsaw Operators to enroll. (Course code: CO-FA2-202329-1 / Functional area: Occupational Safety and Health for A&H / CEA hours: 6). Other Registered Tree Management Personnel also can apply for optional CEA hours.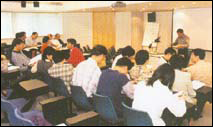 Highlights:

• Relevant safety and health legislation for chainsaws
• Common hazards of operating chainsaws
• Safe practice for operating chainsaws
• Structure of chainsaws
• Proper procedures to start and operate
• Use of personal protective equipment
• Inspection and maintenance of chainsaws
• Other safety precautions
• Practical on operating chainsaws
Duration (Hour):
7 hours
Instructor:
Professional or OSHC consultant
Language:
Cantonese supplemented with Chinese notes
Prerequisites:
Ability to read and write in Chinese with relevant working experience
Remark:
●Award of Certificate: 100% attendance and pass the end-of-course examination.
●Students who do not have sufficient attendance are not allowed to attend the examination.
●Students who are absent from the class, late or leave earlier for more than 30 minutes in a class will be regarded as absent for that session.
●Student must wear safety shoe, otherwise they may not be allowed to attend the lesson.
●For student who is the Registered Tree Management Personnel, please submit the copy of registration letter or card during enrollment.


Reserve online
Course Code
Original Fee
(HKD$)
GCG Member Fee/
OSH Ambassador Fee
(HKD$)
SME Fee
(HKD$)
Venue
Start Date

Class Date
Time
Apply individual
CHAIN/23/H
830
750
415
Tsing Yi
03/06/2023
03/06/2023
(Exam Date:03/06/2023)
09:15-12:45 &14:00-17:30
CHAIN/23/J
830
750
415
Tsing Yi
25/06/2023
25/06/2023 星期日(Sun)
(Exam Date:25/06/2023)
09:15-12:45 & 14:00-17:30
CHAIN/23/K
830
750
415
Tsing Yi
16/07/2023
16/07/2023
(Exam Date:16/07/2023)
09:00-12:30 & 14:00-17:30
CHAIN/23/L
830
750
415
Tsing Yi
19/08/2023
19/08/2023
(Exam Date:19/08/2023)
09:15-12:45 & 14:00-17:30
CHAIN/23/N
830
750
415
Tsing Yi
02/09/2023
02/09/2023
(Exam Date:02/09/2023)
09:15-12:45 & 14:00-17:30
CHAIN/23/P
830
750
415
Tsing Yi
24/09/2023
24/09/2023
(Exam Date:24/09/2023)
09:15-12:45 & 14:00-17:30