Certificate Of Competence Courses
(ARB)Occupational Safety and Health in Arboriculture
Although Hong Kong is regarded as a concrete jungle, we are still impressed of the treescape surrounding us. This is attributed by arborists and their managerial staff who are responsible for planting, proper maintenance and preservation of trees. The Greening, Landscape and Tree Management (GLTM) Section was established under the Works Branch of DEVB in March 2010 to champion a new, strategic policy on greening, landscaping and tree management with a view to achieving the sustainable development of a greener environment in Hong Kong. This reflects the importance of arboricultural works contributed by the respective managerial staff and arborists. However, arboricultural works such tree trimming involve high risk operations. These include working at height (e.g. carrying out tree trimming at elevated level), operating dangerous equipment (e.g. use of chain saw for tree trimming and removal of wood) as well as imminent danger of the environment (e.g. tree closing to power lines), etc.
All trees have the potential to fail. Serious or even fatal accident could be happened if there is inadequate planning and safe system of work for arboricultural works. Staff in tree management have to carry out risk assessment to identify any dangerous tree and imminent danger of the environment and establish the relevant control measures according to the risk assessment findings. The arboricultural works shall be managed and supervised by people who have acquired the relevant training to ensure the provision of safe and healthy working environment to the workers.

The course aims at providing managerial staff in arboricultural works the knowledge about tree risk assessment and the respective safety measures.

Remarks:
This is a Recognised Continuing Education in Arboriculture Course for the Registered Tree Climbers and Chainsaw Operators to enroll. (Course code: TC&CO-FA2-202328-1 / Functional area: Occupational Safety and Health for A&H / CEA hours: 12). Other Registered Tree Management Personnel also can apply for optional CEA hours. (Note: The subject course is identical to the course with code TC&CO-FA2-202228-1 and TC&CO-FA2-2-2228-2)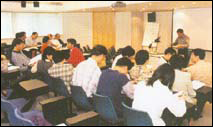 Highlights:

1. Occupational safety and health legislation related to arboricultural works
2. Recognition of common hazards in arboricultural works
3. Risk assessment, preparation of method statement and control measures
4. Tree risk assessment
5. Preventive measures against hazards in arboricultural works
6. Safe use of the trimming and cutting equipment and hand tools
7. Personal protective equipment
8. Emergency response
9. Case studies
Duration (Hour):
14 hours
Instructor:
Professional or OSHC consultant
Language:
Cantonese supplemented with Chinese notes
Prerequisites:
1. Completion of secondary education (F.5 under HKCEE or F.6 under HKDSE) or above or equivalent (applicants should provide copies of certification) and
2. Ability to read and write in Chinese with relevant working experience
Remark:
● Award of Certificate: 100% attendance and pass the end-of-course examination.
● Students who do not have sufficient attendance are not allowed to attend the examination.
● Students who are absent from the class, late or leave earlier for more than 30 minutes in a class will be regarded as absent for that session.
● Student must wear safety shoe during practical sessions, otherwise they may not be allowed to attend the lesson.
● For student who is the Registered Tree Management Personnel, please submit the copy of registration letter or card during enrollment.


Reserve online
Course Code
Original Fee
(HKD$)
GCG Member Fee/
OSH Ambassador Fee
(HKD$)
SME Fee
(HKD$)
Venue
Start Date

Class Date
Time
Apply individual
ARB/23/E
1660
1490
830
Tsing Yi
04/06/2023
04/06/2023,
11/06/2023(星期日)
(Exam Date:11/06/2023)
09:15-12:45 & 14:00-17:30
ARB/23/G
1660
1490
830
Tsing Yi
22/07/2023
22/07/2023,29/07/2023
(Exam Date:29/07/2023)
09:15-12:45 & 14:00-17:30
ARB/23/H
1660
1490
830
Tsing Yi
10/09/2023
10/09/2023,17/09/2023(星期日)
(Exam Date:24/09/2023)
09:15-12:45 & 14:00-17:30