Certificate Of Competence Courses
(DS)Safety Management of Dangerous Substances
Almost all chemicals used in industrial processes are hazardous, whether they are flammable, toxic or corrosive. If chemicals are not properly used, stored and labelled, workers can be exposed to potential danger. This course teaches the way to set up a safety and health programme for chemicals.
This course is targeted at supervisors and workers in industries using dangerous substances.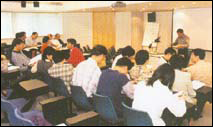 Highlights:

1. Legislation controlling the safe use of chemicals
2. Risk assessment of chemicals
3. Formulate plan on safe use of chemicals
4. Work controlling method
5. Proper choice and use of personal protective equipment
6. Emergency planning
7. Waste disposal
Duration (Hour):
18 hours
Instructor:
Professional or OSHC consultant
Language:
Cantonese supplemented with English notes
Prerequisites:
1. Completion of secondary education (F.5 under HKCEE or F.6 under HKDSE) or above or equivalent plus a pass in Chemistry or equivalent (applicants should provide copies of certification) or holders of "Safe Handling of Chemicals" course
2. Ability to read and write in English

Remark:
● Award of Certificate: 80% attendance and pass in end-of-course examination.
● Students who do not have sufficient attendance are not allowed to attend the examination.
● Students who are absent from the class, late or leave earlier for more than 30 minutes in a class will be regarded as absent for that session.
● Safety shoes must be worn during practical sessions.


Reserve online
(If online enrollment quota is full or you would like to arrange in-house training course,

please contact 2311 3322/3106 2000.)
Course Code
Original Fee
(HKD$)
GCG Member Fee/
OSH Ambassador Fee
(HKD$)
SME Fee
(HKD$)
Venue
Start Date

Class Date
Time
Apply individual
DS/24/A
1290
1160
645
Tsing Yi
15/02/2024
15/02,22/02,29/02/2024
(Exam Date:29/02/2024)
09:30-12:30 & 14:00-17:00