Certificate Of Competence Courses
(ASB)Certificate of Competence in Safe Handling of Asbestos
Working with asbestos generates high levels of asbestos dust which can endanger the health of employees as well as those living nearby. In order to minimize the risk of exposure, it is very important for employees involved in asbestos work to have a thorough understanding of proper working procedures and to observe relevant precautions. This course provides essential techniques for protecting the health of workers and reducing risk to the public. The Environmental Protection Department has recognized this course as one of the formal mandatory training requirements for asbestos contractors/supervisors. This course is suitable for those who are engaged in the use or handling of asbestos as well as those who wish to have a knowledge of asbestos abatement.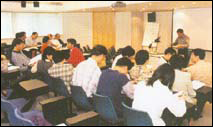 Highlights:

1. Legislation on the use of asbestos
2. Applications of asbestos in building work
3. Health hazards of asbestos
4. Methods of assessing asbestos exposure and hazards
5. Safe handling of asbestos and methods of controlling dust exposure to workers
6. Proper use of respiratory protective equipment and protective clothing
7. De-contamination procedures and hygiene facilities
8. Inspection and maintenance of plants and equipment
9. Procedures of handling asbestos waste
Duration (Hour):
30 hours plus end-of-course examination (including theory & practical sessions)
Instructor:
Professionals from Environmental Protection Department and Labour Department
Language:
Cantonese supplemented with English notes
Prerequisites:
(1) Applicant should have education level of Form 5 or above (applicant should submit relevant proof of academic qualifications); or completed one of the following courses:
(a) the Certificate for Safety and Health for Supervisors (Construction); or
(b) Technically Competent Person T1 Training Courses; or
(c) Technically Competent Person T1 (Minor Works) Training Courses; or
(d) a Qualifications Framework Level 3 Course in the building construction field.

OR

(2) Applicant with education level of Form 3 or Form 4 should have not less than 48 months of recognized working experience in asbestos abatement works (applicant should submit relevant proof of working experience)
Remark:
●Award of Certificate: 100% attendance and a pass in end-of-course examination.
●Students who do not have sufficient attendance are not allowed to attend the examination.
●Students who are absent from the class, late or leave earlier for more than 30 minutes in a class will be regarded as absent for that session.


Reserve online