General Occupational Safety and Health Courses
(HIA)Hazard Identification Activity
The objective of the Hazard Identification Activity (HIA) is to enable course participants mastering the HIA techniques which are crucial to the success of "Safe Working Cycle". After completion of the course, they would be conversant in motivating and leading the active participation of the workforce in the HIA. Course participants would also be able to build up a strong team spirit and reinforce team members' safety & health awareness thus adhering to the control measures come up with in the HIA.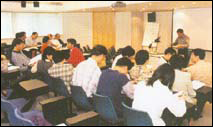 Highlights:

1. "Safe Working Cycle" overview
2. Theoretical basis of Hazard Identification Activity
3. Success factors of Hazard Identification Activity
4. 4-Step to Hazard Identification Activity
5. Application of "Point and Call"
6. Completing and following-up the HIA form
7. Case studies and exercises
Duration (Hour):
6 hours
Instructor:
Professional or OSHC consultant
Language:
Cantonese supplemented with Chinese notes
Prerequisites:
Ability to read and write in Chinese
Remark:
● Award of Certificate : 100% attendance and pass the end-of course examination.
● Students who do not have sufficient attendance are not allowed to attend the examination.
● Students who are absent from the class, late or leave earlier for more than 30 minutes in class will be regarded as absent for that session.


Reserve online
(If online enrollment quota is full or you would like to arrange in-house training course,

please contact 2311 3322/3106 2000.)
Course Code
Original Fee
(HKD$)
GCG Member Fee/
OSH Ambassador Fee
(HKD$)
SME Fee
(HKD$)
Venue
Start Date

Class Date
Time
Apply individual
HIA/23/W
490
440
245
North Point
27/09/2023
27/09/2023 & 28/09/2023
(Exam Date:28/09/2023)
18:30-21:30
HIA/23/Y
490
440
245
Tsing Yi
09/10/2023
09/10/2023
(Exam Date:09/10/2023)
09:30-12:30 & 14:00-17:00
HIA/23/AA
490
440
245
North Point
27/10/2023
27/10/2023
(Exam Date:27/10/2023)
09:30-12:30 & 14:00-17:00
HIA/23/AB
490
440
245
Tsing Yi
12/11/2023
12/11/2023
(Exam Date:12/11/2023)
09:30-12:30 & 14:00-17:00
HIA/23/AC
490
440
245
North Point
29/11/2023
29/11/2023
(Exam Date:29/11/2023)
09:30-12:30 & 14:00-17:00
HIA/23/AD
490
440
245
North Point
12/12/2023
12/12/2023
(Exam Date:12/12/2023)
09:30-12:30 & 14:00-17:00
HIA/23/AE
490
440
245
North Point
27/12/2023
27/12/2023 & 28/12/2023
(Exam Date:28/12/2023)
18:30-21:30