General Occupational Safety and Health Courses
(FST)Foreman Safety Training
Foremen are the front line supervisors in the construction industry. They play a very important role in ensuring the construction work is done to the required standard and completed it safely as they are the direct supervisors of the workers who actually carry out the job. Therefore, they should possess knowledge in safety to enable them to give instruction and have supervision on their workers to complete the work safely and effectively.
The objective of this training course is to provide the basic safety training for foremen to enhance their safety knowledge.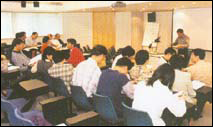 Highlights:

1. Introduction to construction safety legislation
2. The role of foremen
3. Potential hazards in construction industry and their control measures
4. Hazard Identification Activity
5. Tool Box Talk Training
6. Accident reporting and emergency plan
Duration (Hour):
16hrs (including examination)
Instructor:
Professional or OSHC consultant
Language:
Cantonese supplemented with Chinese notes
Prerequisites:
1) Ability to read and write in Chinese and
2) Completion of secondary education(F.5 under HKCEE or F.6 under HKDSE) or above or equivalent (applicants should provide copies of certification) or
23 years of age or above and 3 years of working experience (applicants should provide proof of experience)
Remark:
◎Award of Certificate: 100% attendance and pass the end-of-course examination.
◎Students who do not have sufficient attendance are not allowed to attend the examination
◎Students who are absent from the class, late or leave earlier for more than 30 minutes in a class will be regarded as absent for that session.


Reserve online
(If online enrollment quota is full or you would like to arrange in-house training course,

please contact 2311 3322/3106 2000.)
Course Code
Original Fee
(HKD$)
GCG Member Fee/
OSH Ambassador Fee
(HKD$)
SME Fee
(HKD$)
Venue
Start Date

Class Date
Time
Apply individual
FST/23/D
680
610
340
North Point
10/11/2023
10/11/2023 & 17/11/2023
(Exam Date:17/11/2023)
09:00-12:30 &13:30-18:00