General Occupational Safety and Health Courses
(WHT)Working at Height Safety
From the safety point of view, working at height should be avoided whenever possible as it involves a number of hazards and the consequences could be very serious. Hence when carrying out work at height, adequate safety precautions must be put in place so as to prevent the occurrence of accidents. The aim of this course is to introduce the relevant legislative requirements on working at height and explain the concerned risk assessment process. Participants would then be able to understand the necessary safety measures and reduce the working at height accidents.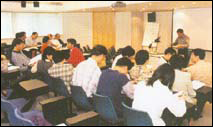 Highlights:

1.Legislative requirements to reduce risk in working at height
2.Risk assessment: hazards involved in working at height
3.Common control measures and fall prevention strategies
4.Safe management system for working at height
5.Case studies
6.Personal protective equipment (PPE) for working at height demonstration
7.Practice on use of PPE for working at height
8.Examination
Duration (Hour):
6 hours
Instructor:
Professional or OSHC Consultant
Language:
Cantonese supplemented with Chinese notes
Prerequisites:
General education with relevant working experience
Remark:
◎Award of Certificate: 100% attendance and pass the end-of-course examination.
◎Students who do not have sufficient attendance are not allowed to attend the examination
◎Students who are absent from the class, late or leave earlier for more than 30 minutes in class will be regarded as absent for that session.



Reserve online
(If online enrollment quota is full or you would like to arrange in-house training course,

please contact 2311 3322/3106 2000.)
Course Code
Original Fee
(HKD$)
GCG Member Fee/
OSH Ambassador Fee
(HKD$)
SME Fee
(HKD$)
Venue
Start Date

Class Date
Time
Apply individual
WHT/23/AB
490
440
245
Tsing Yi
29/09/2023
29/09/2023
(Exam Date:29/09/2023)
09:30-12:30 & 14:00-17:00
WHT/23/AC
490
440
245
Tsing Yi
14/10/2023
14/10/2023
(Exam Date:14/10/2023)
09:30-12:30 & 14:00-17:00
WHT/23/AD
490
440
245
Tsing Yi
25/10/2023
25/10/2023
(Exam Date:25/10/2023)
09:30-12:30 & 14:00-17:00
WHT/23/AE
490
440
245
Tsing Yi
06/11/2023
06/11/2023
(Exam Date:06/11/2023)
09:30-12:30 & 14:00-17:00
WHT/23/AG
490
440
245
Tsing Yi
12/11/2023
12/11/2023
(Exam Date:12/11/2023)
09:30-12:30 & 14:00-17:00
WHT/23/AH
490
440
245
Tsing Yi
21/11/2023
21/11/2023
(Exam Date:21/11/2023)
09:30-12:30 & 14:00-17:00
WHT/23/AJ
490
440
245
Tsing Yi
05/12/2023
05/12/2023
(Exam Date:05/12/2023)
09:30-12:30 & 14:00-17:00
WHT/23/AK
490
440
245
Tsing Yi
29/12/2023
29/12/2023
(Exam Date:29/12/2023)
09:30-12:30 & 14:00-17:00