Boiler and Receiver Safety Courses
(BPV2)Fire-tube Boilers Safety
This course enables operators to gain adequate knowledge on the construction, operation, maintenance and safety of fire-tube boilers and steam receivers.

This course is recognized by the Labour Department. Upon successful completion of this course, participants are exempted from taking the certificate of competency examination for fire-tube boilers conducted by the Labour Department.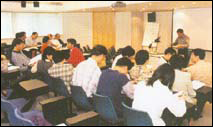 Highlights:

1. Construction of fire-tube boilers
2. Boiler's accessories and auxiliary equipment
3. Safe operation of boiler
4. Chemical safety
5. Boiler water treatment
6. Electric current and electrical and mechanical safety
7. Confined spaces
8. Confined spaces
9. Ironing boilers and hot-oil boilers
10. Fire prevention equipment and measures
Duration (Hour):
24 hours plus end-of-course examination
Instructor:
Professionals
Language:
Cantonese supplemented with Chinese notes
Prerequisites:
Preferable Form 3 or above; Operating experience of fire-tube boilers as an assistant
Remark:
● Award of Certificate: At least 80% class attendance and a pass in end-of-course examination.
● Students who do not have sufficient attendance is not allowed to attend the examination.
● Students who are absent from the class, late or earlier for more than 30 minutes in a class will be regarded as absent for that session of the course.


Reserve online
Course Code
Original Fee
(HKD$)
GCG Member Fee/
OSH Ambassador Fee
(HKD$)
SME Fee
(HKD$)
Venue
Start Date

Class Date
Time
Apply individual
BPV2/23/C
2050
1850
1440
North Point
11/04/2023
11/04,18/04,25/04/2023,
02/05,09/05,16/05,23/05,30/05/2023,
06/06/2023
(Exam Date:06/06/2023)
18:30-21:30
BPV2/23/D
2050
1850
1440
North Point
18/05/2023
18/05,25/05/2023,
01/06,08/06,15/06/2023
(Exam Date:15/06/2023)
09:30-12:30 & 14:00-17:00
BPV2/23/E
2050
1850
1440
North Point
11/07/2023
11/07,18/07,25/07
01/08,08/08,15/08,22/08,29/08
05/09/2023
(Exam Date:05/09/2023)
18:30-21:30
BPV2/23/G
2050
1850
1440
North Point
17/08/2023
17/08,24/08,31/08
07/09,14/09/2023
(Exam Date:14/09/2023)
09:30-12:30 & 14:00-17:00