General Occupational Safety and Health Courses
(TLS)SAFE USE OF TAIL LIFTS
TAIL LIFTS ARE VERY COMMONLY USED IN HONG KONG BY THE LOGISTIC INDUSTRIES AND IN FACT ALL INDUSTRIES WHICH HAVE TO MOVE GOODS AROUND. THEY ARE VERSATILE TOOLS AND RELATIVELY SIMPLE TO USE YET FAILURE TO OBSERVE THE REQUIRED SAFETY RULES DOES LEAD TO DIRE CONSEQUENCES. THIS COURSE IS FOR OPERATORS OF TAIL LIFTS TO EQUIP THEM WITH THE CONCERNED KNOWLEDGE AND SKILLS HAVING THE RIGHT MINDSET TO USE THE DEVICE PROPERLY THUS AVOIDING ACCIDENTS IN THE USAGE OF IT.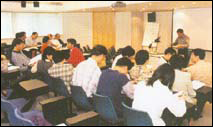 Highlights:

1. AN OVERVIEW OF RELEVANT LEGISLATIVE REQUIREMENTS FOR TAIL LIFTS
2. SAFE DESIGN, CONSTRUCTION, INSTALLATION, OPERATION & MAINTENANCE FOR TAIL LIFTS
3. POTENTIAL HAZARDS IN TAIL LIFT OPERATIONS
4. COMMON TYPES OF WORK-RELATED ACCIDENTS IN TAIL LIFT OPERATIONS
5. SAFE OPERATIONS FOR TAIL LIFTS/HIERARCHY OF SAFETY CONTROLS
6. TYPES, PURPOSE, CORRECT SELECTION AND PROPER USE OF PERSONAL PROTECTIVE EQUIPMENT
7. ON-SITE HAZARDS IDENTIFICATION AS A DYNAMIC PROCESS
8. SAFE BEHAVIOR, E.G. POINT AND CALL, FOR TAIL LIFTS
9. EMERGENCY PREPAREDNESS FOR THE OCCURRENCE OF ACCIDENT
10.HAND-ON PRACTICES WITH TAIL LIFT
Duration (Hour):
4 hours
Instructor:
Professional or OSHC consultant
Language:
Cantonese supplemented with Chinese notes
Prerequisites:
Ability to read and write in Chinese
Remark:
◎Award of Certificate: 100% attendance and pass the end-of-course examination.
◎Students who do not have sufficient attendance are not allowed to attend the examination
◎Students who are absent from the class, late or leave earlier for more than 30 minutes in class will be regarded as absent for that session.


Reserve online
(If online enrollment quota is full or you would like to arrange in-house training course,

please contact 2311 3322/3106 2000.)
Course Code
Original Fee
(HKD$)
GCG Member Fee/
OSH Ambassador Fee
(HKD$)
SME Fee
(HKD$)
Venue
Start Date

Class Date
Time
Apply individual
TLS/23/P
360
320
180
Tsing Yi
25/09/2023
25/09/2023
(Exam Date:25/09/2023)
14:00-18:00
TLS/23/Q
360
320
180
Tsing Yi
19/10/2023
19/10/2023
(Exam Date:19/10/2023)
14:00-18:00
TLS/23/R
360
320
180
Tsing Yi
04/11/2023
04/11/2023
(Exam Date:04/11/2023)
09:00-13:00
TLS/23/S
360
320
180
Tsing Yi
24/11/2023
24/11/2023
(Exam Date:24/11/2023)
14:00-18:00
TLS/23/T
360
320
180
Tsing Yi
14/12/2023
14/12/2023
(Exam Date:14/12/2023)
14:00-18:00