General Occupational Safety and Health Courses
(AED)Use of Automated External Defibrillator
Heart disease is the second high in fatal cases, most of them are related to ventricular fibrillation which can cause fatal in minutes. Cardiopulmonary resuscitation (CPR) with aids with automated external defibrillator (AED) will increase the chance of resuming normal heart beats. AEDs are commonly used in airports, railway stations, housing estates and schools, etc. In order to maximize the applications, AEDs should be operated by trained first aiders. This course is intended to strength the skills in operating AED for the competent first aiders.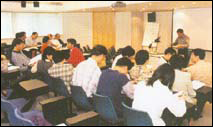 Highlights:

1. Introduction in AED's applications
2. Procedures in AED operations
3. AED demonstrations
4. AED maintenance
5. Practical session
6. Written and practical assessment

Duration (Hour):
4 hours
Instructor:
Professional or OSHC consultant
Language:
Cantonese supplemented with Chinese notes
Prerequisites:
Copy of Competent First Aid Certificate or Resuscitation Certificate
Remark:
● Award of Certificate: 100% attendance and pass in end-of-course examination. This certificate is valid for three years.
● Students who do not have sufficient attendance is not allowed to attend the examination
● Students who are absent from the class, late or leave earlier for more than 30 minutes in a class will be regarded as absent for that session.


Reserve online
Course Code
Original Fee
(HKD$)
GCG Member Fee/
OSH Ambassador Fee
(HKD$)
SME Fee
(HKD$)
Venue
Start Date

Class Date
Time
Apply individual
AED/23/B
360
320
180
North Point
02/06/2023
02/06/2023
(Exam Date:02/06/2023)
13:30-17:30
AED/23/C
360
320
180
North Point
28/08/2023
28/08/2023
(Exam Date:28/08/2023)
13:30-17:30