General Occupational Safety and Health Courses
(VCW)Safety for Viaduct Construction Work
Hong Kong's transport infrastructure comprises many viaducts for both road and rail transport purposes. There are different viaduct construction methods, all of which involve complicated processes such as site formation, excavation, lifting, falsework erection, lifting frame erection, concreting, re-bar fixing, box girder fabrication, pre-stressing, and many other associated work activities. Nowadays, the main structures of viaducts in Hong Kong are commonly constructed with pre-cast segments and the efficiency of the construction processes is also enhanced with massive application of mechanized lifting operations. However, these operations also bring about different risks which could compromise the site safety and may lead to serious consequence if they are not managed properly.

This course is designed for managers, supervisors, workers and other technical personnel working on viaduct construction projects. The course aims to provide participants with knowledge of risks associated in construction processes of viaduct and respective control measures so as to increase their safety awareness and reduce their risk of injury.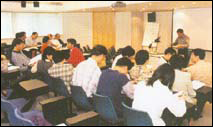 Highlights:

1.Relevant safety and health legislation and codes of practice
2.Key processes in construction of viaduct
3."Safe Design" considerations
4.Key hazards associated with construction processes
5.Relevant risk control measures
6.Safe work method statement
7.Accident case studies

Duration (Hour):
7 hours
Instructor:
Professional or OSHC's Consultant
Language:
Cantonese supplemented with Chinese notes
Prerequisites:
Ability to read and write in Chinese
Remark:
◎Award of Certificate: 100% attendance and pass the end-of-course examination.
◎Students who do not have sufficient attendance are not allowed to attend the examination
◎Students who are absent from the class, late or leave earlier for more than 30 minutes in class will be regarded as absent for that session.



Reserve online
(If online enrollment quota is full or you would like to arrange in-house training course,

please contact 2311 3322/3106 2000.)
Course Code
Original Fee
(HKD$)
GCG Member Fee/
OSH Ambassador Fee
(HKD$)
SME Fee
(HKD$)
Venue
Start Date

Class Date
Time
Apply individual
VCW/23/D
420
380
210
North Point
24/11/2023
24/11/2023
(Exam Date:24/11/2023)
09:15-12:45 & 14:00-17:30