General Occupational Safety and Health Courses
(GWMS)Appreciation Course on Gas Welding and Flame Cutting for Managers and Supervisors
Gas welding and flame cutting are hazardous work processes. According to the "Code of Practice: Safety and Health at Work for Gas Welding and Flame Cutting" issued by the Labour Department, line management personnel including managers, engineers, safety practitioner, foremen or supervisors should take up their safety supervisory role in discharging their duties. The responsibilities include ensuring those to perform risk assessment have knowledge in gas welding or flame cutting operations, such that safety rules and regulations can be effectively established as well as for the ease of monitoring.
This course aims at providing the personnel responsible for monitoring gas welding or flame cutting operations with the concept of risk assessment, safety measures and emergency preparedness. Students will be able to learn the safety precautions through the practice on safe operation of gas welding.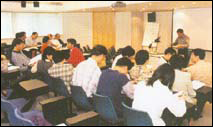 Highlights:

1.Safety legislation and code of practice related to gas welding and flame cutting operations
2.Identification of hazards in gas welding and flame cutting operations
3.Evaluation of related risks and establishment of appropriate safety precautions
4.Hot work permit system
5.Safe storage and handling of gas cylinder
6.Demonstration on inspection and maintenance of gas welding equipment and associated safety devices
7.Emergency preparedness
8.Demonstration and practice on safe operating procedures of gas welding
9.Accident case analysis

Duration (Hour):
7 hours
Instructor:
Professional or OSHC instructor
Language:
Cantonese supplemented with Chinese notes
Prerequisites:
General education with relevant working experience
Remark:
◎Award of Certificate: 100% attendance and pass the end-of-course examination.
◎Students who do not have sufficient attendance are not allowed to attend the examination
◎Students who are absent from the class, late or leave earlier for more than 30 minutes in a class will be regarded as absent for that session.
◎Students must wear long-sleeve coveralls and safety shoes. Otherwise, they may not be allowed to attend the lesson.
◎If students do not prefer to use the PPE provided, they can use their own protective gloves and eye protectors suitable for the welding operations.



Reserve online
(If online enrollment quota is full or you would like to arrange in-house training course,

please contact 2311 3322/3106 2000.)
Course Code
Original Fee
(HKD$)
GCG Member Fee/
OSH Ambassador Fee
(HKD$)
SME Fee
(HKD$)
Venue
Start Date

Class Date
Time
Apply individual
GWMS/23/D
520
470
260
Tsing Yi
04/12/2023
04/12/2023
(Exam Date:04/12/2023)
09:30-13:00 & 14:00-17:30