General Occupational Safety and Health Courses
(M(EH))Manual Lifting and Handling (Elderly Home Workers)
Workers working at elderly homes not only take care of the meals and daily necessities of the residents, but also have to lift, hold or transport the elders. Some elders who are infirm or incapable of mobility may require assistance to get out of bed/wheelchair or change from a sitting to standing position, evening in walking. Workers who carry out lifting work with awkward posture may sustain back pain or injury.
The purpose of this course is to provide training to the elderly home workers on proper lifting, holding or transferring the elders; safe operation of lifting aids such as patient lift hoist; how bodily injuries can result from improper manual lifting and handling; basic back care.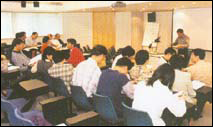 Highlights:

1.Basic anatomy and the effect on the back from lifting
2.Basic ergonomics
3.Causes of manual lifting injuries
4.Method of correct manual lifting and holding
5.Safe operation of lifting aids such as patient lift hoist
6.Basic bare care and stretching exercise

Duration (Hour):
3.5 hours
Instructor:
Professional or OSHC consultant
Language:
Cantonese supplemented with Chinese notes
Prerequisites:
Ability to read and write Chinese
Remark:
◎Award of Certificate: 100% attendance and pass the end-of-course examination.
◎Students who do not have sufficient attendance are not allowed to attend the examination
◎Students who are absent from the class, late or leave earlier for more than 30 minutes in class will be regarded as absent for that session.


Reserve online
(If online enrollment quota is full or you would like to arrange in-house training course,

please contact 2311 3322/3106 2000.)