General Occupational Safety and Health Courses
(5SCO)5S Good Housekeeping for Construction Sites
The causes of majority industrial accidents, such as slipping, tripping and struck by falling object, happened in the construction sites are directly or indirectly related to the housekeeping condition in the workplace. Construction companies practicing good housekeeping will not only improve safety and health at workplaces, but also build a sense of belonging and raise the morale of employees. Thus the number of accident can be minimized and the productivity of project team can be increased.

The concept of "5S" applied to the housekeeping is believed to effectively improve the working condition. The concept is based on five elements including Organisation, Neatness, Cleanliness, Standardization and Discipline. This course aims at introducing
the concept of Sand its application on construction sites in such a way that the employees can make use of this approach in their working environment for improving the health and safety standard in the construction sites.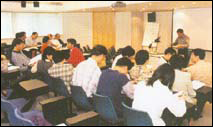 Highlights:

• Benefits of good housekeeping in workplace
• Definition of 5S
• How to implement 5S
• An illustration of 5S application on construction sites
• Case Study of implementing 5S in construction companies
Duration (Hour):
3.5 hours
Instructor:
Professional or OSHC's Consultant
Language:
Cantonese supplemented with Chinese notes
Prerequisites:
Ability to read and write in Chinese
Remark:
◎Award of Certificate: 100% attendance and pass the end-of-course examination.
◎Students who do not have sufficient attendance are not allowed to attend the examination
◎Students who are absent from the class, late or leave earlier for more than 30 minutes in a class will be regarded as absent for that session.


Reserve online
(If online enrollment quota is full or you would like to arrange in-house training course,

please contact 2311 3322/3106 2000.)
Course Code
Original Fee
(HKD$)
GCG Member Fee/
OSH Ambassador Fee
(HKD$)
SME Fee
(HKD$)
Venue
Start Date

Class Date
Time
Apply individual
5SCO/23/P
160
145
80
North Point
11/12/2023
11/12/2023
(Exam Date:11/12/2023)
09:15-12:45