General Occupational Safety and Health Courses
(VS)General Safety for Volunteer Services
As a cosmopolitan like Hong Kong, people not only trying their best in work but also paying attention to the charity. They like to share their leisure times with those who need help. It can help to broaden our vision and giving hand to others that can bring us happiness. However, there are varieties of volunteer works with different type of potential risks. Therefore the OSHC specially made a general safety course to enhance the safety awareness of the volunteer.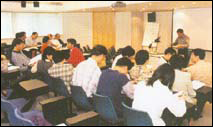 Highlights:

1. Introduction to related safety and health standard
2. General scope of work for volunteers
3. Common work related hazards:
- Violence at work
- Biological hazards
- Traffic accident
- Crowd accident
- Adverse weather
- Handling of chemicals
- Fire accident
- Office work related hazards
- Electrical hazards
- Manual handling hazards
4. To understand work related hazards and its control measures
5. Personal protective equipment
6. Emergency preparedness
Duration (Hour):
3.5 hours
Instructor:
Professional or OSHC Consultant
Language:
Cantonese supplemented with Chinese notes
Prerequisites:
Ability to read and write in Chinese
Remark:
◎Award of Certificate: 100% attendance and pass the end-of-course examination.
◎Students who do not have sufficient attendance are not allowed to attend the examination
◎Students who are absent from the class, late or leave earlier for more than 30 minutes in class will be regarded as absent for that session.



Reserve online
(If online enrollment quota is full or you would like to arrange in-house training course,

please contact 2311 3322/3106 2000.)