General Occupational Safety and Health Courses
(FP(MFG))Fire Prevention (Manufacturing Industry)
The chemicals used in manufacturing can cause a risk of fire. Fire can cause damage to properties, equipment and even take human lives. The management of manufacturers should be familiar with the ways and means of reducing fire risk such as the proper storage of combustible materials and the elimination of ignition or heat sources. The course is intended to provide the management with ways to manage fire safety problems in their establishments.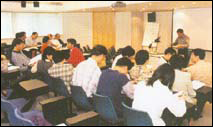 Highlights:

1. Common causes of fire in industrial buildings
2. Classifications of fire and fire extinguishers
3. Building structure for fire safety
4. Fire detection and sprinkler systems
5. Fire prevention method
6. Means of escape and evacuation
7. Fire prevention and emergency procedures
8. Safe means of storing and stacking materials
9. Housekeeping
10. Structure of fire extinguishers
11. Practical session for using fire extinguishers
Duration (Hour):
8 hours
Instructor:
Professional or OSHC consultant
Language:
Cantonese supplemented with Chinese notes
Prerequisites:
Ability to read and write in Chinese
Remark:
◎Award of Certificate: 100% attendance and pass in end-of-course examination.
◎Students who are more than 30 minutes late for a class will be regarded as absent for that session.


Reserve online
(If online enrollment quota is full or you would like to arrange in-house training course,

please contact 2311 3322/3106 2000.)
Course Code
Original Fee
(HKD$)
GCG Member Fee/
OSH Ambassador Fee
(HKD$)
SME Fee
(HKD$)
Venue
Start Date

Class Date
Time
Apply individual
FP(MFG)/23/D
420
380
210
Tsing Yi
07/12/2023
07/12/2023
(Exam Date:07/12/2023)
09:00-13:00 &14:00-18:00