General Occupational Safety and Health Courses
(EA)Introductory First Aid Course
The law requires that an organisation has to have sufficient first-aiders according to the workforce size. Of course, it is always beneficial to have more employees trained in first aid, so that these employees can stay clam and help to handle minor injuries. A full course of first aid takes more than 30 contact hours, making it difficult for a lot of people to attend. This 6-hour course fulfils the need by providing some basic first aid training to interested employees through theory and practice.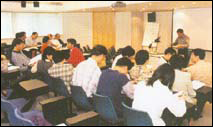 Highlights:

1. First aid principles and handling of emergencies
2. Unconsciousness:
- General treatment
- Cerebrovascular accident (stroke)
- Acute heart diseases
3. Poisoning
4. CPR for adult (Theory)
5. Bleeding & wounds
6. Burns & scalds
7. Items of first aid box
Duration (Hour):
6 hours
Instructor:
Professionals from Auxiliary Medical Services
Language:
Cantonese supplemented with Chinese notes
Prerequisites:
Ability to read and write in Chinese
Remark:
◎Award of Certificate: 100% attendance and pass the end-of-course examination
◎Students who do not have sufficient attendance are not allowed to attend the examination
◎Students who are absent from the class, late or leave earlier for more than 30 minutes in a class will be regarded as absent for that session.


Reserve online
(If online enrollment quota is full or you would like to arrange in-house training course,

please contact 2311 3322/3106 2000.)
Course Code
Original Fee
(HKD$)
GCG Member Fee/
OSH Ambassador Fee
(HKD$)
SME Fee
(HKD$)
Venue
Start Date

Class Date
Time
Apply individual
EA/23/G
320
290
160
North Point
28/09/2023
28/09/2023
(Exam Date:28/09/2023)
09:30-12:30 &14:00-17:00
EA/23/H
320
290
160
North Point
30/10/2023
30/10/2023
(Exam Date:30/10/2023)
09:30-12:30 &14:00-17:00
EA/23/J
320
290
160
North Point
14/12/2023
14/12/2023
(Exam Date:14/12/2023)
09:30-12:30 &14:00-17:00