General Occupational Safety and Health Courses
(BSTWR)Basic Safety Training Course for Recycling Industry
1. Applicable occupational safety and health legislations for recycling industry
2. Common potential hazards in recycling industry
3. Introduction on safety precautions and the use of personal protective equipment(PPE)
4. Accident prevention concepts for recycling industry
5. Emergency preparedness and reporting of accidents and dangerous occurrences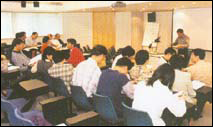 Highlights:

To enhance productivity as well as to boost healthy and sustainable development, and to ensure individuals could work in a safe and healthy environment, training of safety in the waste recycling industry is essential. The course aims to provide basic safety training for the waste recycling industry workers. It will enhance the safety awareness of the industry workers, so that they can work safely.
Duration (Hour):
4 hours
Instructor:
Professional or OSHC consultant
Language:
Cantonese supplemented with Chinese notes
Prerequisites:
Ability to read and write in Chinese
Remark:
◎Award of Certificate: 100% attendance and pass in end-of-course examination.
◎Students who are absent from the class, late or leave earlier for more than 30 minutes in a class will be regarded as absent for that session.


Reserve online
Course Code
Original Fee
(HKD$)
GCG Member Fee/
OSH Ambassador Fee
(HKD$)
SME Fee
(HKD$)
Venue
Start Date

Class Date
Time
Apply individual
BSTWR/23/B
200
180
100
North Point
31/03/2023
31/03/2023
(Exam Date:31/03/2023)
14:00-18:00