Occupational Safety and Health Management Courses
(WRSHM)Safety and Health Training for Management Staff in Waste Recycling Industry
Waste is a common problem in an affluent society, and waste management and recycling become a pressing issue of our city. In recent years, there were numbers of industrial accidents happened in the local waste recycling industry which resulted in injuries and fatalities of the practitioners. Occupational safety and health concern has been raised among the waste recycling industry gradually. The course aims to equip management staff of the waste recycling industry with the OSH knowledges. The learning outcome will be executed in their organizations so as to achieve a safe working environment and build a good safety culture.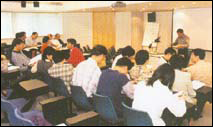 Highlights:

1. OSH legislations related to waste recycling industry
2. Safe working system and accident prevention concept
3. Recycling industry accident statistics and case analysis
4. OSH hazards in recycling industry (major and trade specific)
5. 5s good housekeeping
6. Personal protective equipment
7. Basic safety management
8. Fundamental first aid knowledge
9. Safe working cycle and safety culture
Duration (Hour):
8 hours
Instructor:
Professional or OSHC's Consultant
Language:
Cantonese supplemented with Chinese notes
Prerequisites:
General education with relevant working experience and has ability to read and write in Chinese
Remark:
◎Award of Certificate: 100% attendance and pass the end-of course examination.
◎Students who do not have sufficient attendance are not allowed to attend the examination.
◎Students who are absent from the class, late or leave earlier for more than 30 minutes in class will be regarded as absent for that session.



Reserve online
Course Code
Original Fee
(HKD$)
GCG Member Fee/
OSH Ambassador Fee
(HKD$)
SME Fee
(HKD$)
Venue
Start Date

Class Date
Time
Apply individual
WRSHM/23/D
620
560
310
Tsing Yi
14/06/2023
14/06/2023
(Exam Date:14/06/2023)
09:00-13:00 & 14:00-18:00
WRSHM/23/E
620
560
310
Tsing Yi
09/07/2023
09/07/2023
(Exam Date:09/07/2023)
09:00-13:00,14:00-18:00
WRSHM/23/G
620
560
310
Tsing Yi
13/09/2023
13/09/2023
(Exam Date:13/09/2023)
09:00-13:00 & 14:00-18:00