Occupational Safety and Health Management Courses
(RIS(SSS))Workplace Risk Management Workshop (Social Service)
Despite the size, the nature and the scope of service, social service agency would have the responsibilities to ensure the health and safety at work of employees and the person in their premises. This course is specially designed for the management staff working in the social service agency.

This course aims at enhance their basic knowledge in occupational safety and health, basic risk assessment skill and strengthen their ability in conduct risk assessment when assigning the job to frontline staff. Thus, the safety level of social service sector could be raised up and the number of accident could be reduced.

This course would be divided into two lessons. The first lesson would include the introduction of occupational safety and health legislation and work hazards related to social service sector, basic risk assessment principle and technique. Candidate should apply the knowledge learnt from the first lesson to conduct risk assessment on the work carried out in the social service agency. The second lesson would include case studies and hierarchy of risk control. Candidate should also report the result of risk assessment in the second lesson and the lecturer would provide suggestion for further improvement.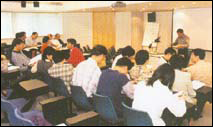 Highlights:

1. Introduction of occupational safety and health legislation related to social service sector
2. Common work hazards in social service sector
3. Principle of risk assessment and basic technology
4. Case studies
5. Hierarchy of risk control
6. Sharing of risk assessment conducted by candidates

Duration (Hour):
7 hours
Instructor:
Professional or OSHC's Consultant
Language:
Cantonese supplemented with Chinese notes
Prerequisites:
1)Completed Form 5 or above or equivalent (applicants should provide copies of certification)
2)Ability to read and write Chinese
3)At least two years management experience in Social Services Industry
Remark:
● Award of Certificate: 100% attendance and pass the end-of-course examination.
● Students who do not have sufficient attendance are not allowed to attend the examination.
● Students who are absent from the class, late or leave earlier for more than 30 minutes in class will be regarded as absent for that session.


Reserve online
Course Code
Original Fee
(HKD$)
GCG Member Fee/
OSH Ambassador Fee
(HKD$)
SME Fee
(HKD$)
Venue
Start Date

Class Date
Time
Apply individual
RIS(SSS)/23/A
620
560
310
North Point
09/03/2023
09/03/2023,
16/03/2023
(Exam Date:16/03/2023)
14:00-17:30