General Occupational Safety and Health Courses
(EAT)Healthy Eating for Employees
The pace of work in Hong Kong is fast and the demands of work can have a considerable impact on employees' eating habits. In order to catch up the time, many people will skip breakfast or lunch because of a long commute or time constraints at work and will feel tiredness later in the day as a result. Similarly, adopting unhealthy eating habits of eating fast foods or intake of supplements is very common to boost energy in working environments, but actually be detrimental to work performance as well as employees' health. The course aims to promote the importance of healthy eating to the employees at large. The food choice to maintain healthy body will also be introduced in the course.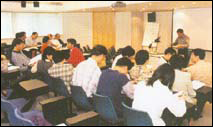 Highlights:

1. Introduction of healthy diet
2. Healthy eating at work
3. Understanding food nutrition labels
4. Food choice to maintain healthy body

Duration (Hour):
3.5 hours
Instructor:
Professional or OSHC consultant
Language:
Cantonese supplemented with Chinese notes
Prerequisites:
Ability to read and write in Chinese
Remark:
◎Award of Certificate: 100% attendance and pass the end-of-course examination.
◎Students who do not have sufficient attendance are not allowed to attend the examination
◎Students who are absent from the class, late or leave earlier for more than 30 minutes in a class will be regarded as absent for that session.


Reserve online
(If online enrollment quota is full or you would like to arrange in-house training course,

please contact 2311 3322/3106 2000.)